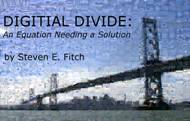 Contact information here
you may click on any of the above email address to contact us directly
Information Request Form
Sign up for my Mailing List! Be the first to hear about new titles, tour updates, receive exclusive personal notes from the author, read early excerpts of upcoming books, and more. Just fill out the form below to receive mailings and our e-mail newsletter.* There's much to resolve in the world of Digital Divide, so join in!

*Note to fans abroad: We are unable to send mailings outside of the U.S. and Canada, but be sure to provide your e-mail address to receive electronic updates.
All e-mail (forms) are subject to print, including your name. If you don't want me to publish your e-mail, or if you would like to remain anonymous, just let us know.